My student completely nailed Orientalism and speaks beautifully about its effects on her. I am so proud. This is a must read for everyone. And consider following her blog!
Down the Rabbit Hole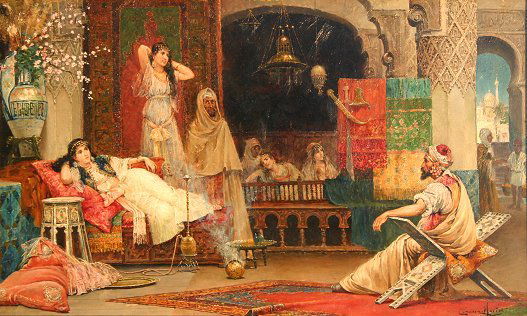 Image source:
https://www.liveauctioneers.com/item/1907150_gjimenez-y-martin-orientalist-painting
The Orient: exotic and fascinating, at once a place of mystical religiosity and barbarity, but most of all strange. One could generate an entire list of adjectives used to described the Orient that can be boiled down to one word: alterity/difference. Or, as Rudyard Kipling would say: "East is east and west is west, and never the twain shall meet" (Singh).
This week, the idea of constructs operating as natural givens are again revisited in the conception of the Orient. Orientalist discourse, as delineated in Edward Said's seminal piece, Orientalism, highlights the pervasiveness of power in shaping it as a "system of statements within which the world can be known" (Ashcroft 51).
Said takes great care to emphasize Orientalist discourse not just as some "airy European fantasy" about the Orient, but an institutionalized discipline, created to systematically "manage – and even produce – the Orient politically…
View original post 826 more words